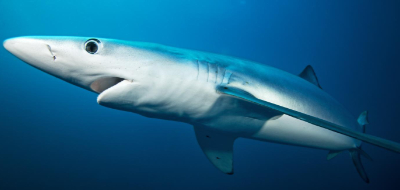 A big year for blue shark
In 2022 Poseidon produced an economic valuation of the global market for blue shark products and an interdependent policy analysis for sustainable management and trade of blue shark products for OCEANA. The report is the first to quantify the global catch and economic value of blue shark products and maps the global trade networks of major importers and exporters of blue shark products.
Official shark catch and trade data is often not very robust, with the underreporting of traded products such as fins and the misreporting of species landed. Blue shark stock status is mostly informed by catch data, which does not accurately present the true status of global blue shark stocks. Multiple reports detail the decline of blue shark populations in recent years, which prompted the need to improve our understanding of blue sharks, both in terms of their true value to global fisheries and the threats and pressures facing the species.
Our analysis found that blue shark is a highly valuable species that is subject to targeted fishing, and not simply as a bycatch of tuna fisheries. In 2019, blue shark landings accounted for US $411 million in first hand sales, exceeding the landed value of Atlantic, Southern and Pacific bluefin tuna that year. The reconstructed landings of 189,783 tons, equates to between 7- 10 million blue sharks, mainly from targeted longline fisheries by large-scale commercial fleets, with 74% of catches attributed to distant water fleets. Of all blue shark landings in 2019, 53% were from the Pacific Ocean, with the Atlantic and Indian Oceans accounting for 34% and 13% respectively. In some ocean basins, blue shark was the dominant catch and species such as tuna were in fact secondary; in the Atlantic Southwest, 5 tonnes of blue shark were caught for every 1 tonne of tuna.
Our study found that Taiwan was a major trader of blue shark, accounting for roughly 25% of all blue shark caught in 2019. Hong Kong remains the world's top exporter of shark fins, with blue sharks accounting for ~50% of fin exports, which mainly go to other Asian and mainland Chinese markets.
Perhaps surprising to those outside the region, the largest net importer and consumer of both shark and blue shark meat globally was Brazil. Its consumption coincides with extensive mislabelling and misleading information. Shark meat is often sold under a generic name commonly know as Cação, often in a mix of different fish. Consequently, many Brazilians are unaware that they are eating shark meat at all.
Despite blue sharks being one of the most abundant and resilient shark species, their populations are thought to be decreasing, largely due to the continued fin trade and the growing demand for shark meat. Blue shark accounted for 60% of all reported shark catch, 36% of all traded shark meat and 41% of all traded shark fins , presenting a clear need for effective management and conservation of this species. Although the International Union for Conservation of Nature (IUCN) now categorizes the global population of blue sharks as "Near Threatened" and the Mediterranean population as "Critically Endangered", our study found that the global blue shark fishery has minimal management compared to other significant fisheries, such as tuna. There is no RFMO specifically dedicated to the conservation and management of sharks. Three major RMFOs already have mandates that would allow them to engage more directly in the management of oceanic sharks.
Poseidon provided wide ranging recommendations that OCEANA used to encourage RFMOs to increase direct management of blue shark fisheries and to improve conservation and protection of blue shark fisheries.
As a result of the efforts of organisations including OCEANA, several shark species including blue sharks, were recently added as Appendix II CITES species. This is a significant step in ensuring the protection and conservation of blue sharks globally. Additionally, following the CoP19 summit, the US House of Representatives made a landmark decision to implement a total ban on the buying and selling of shark fins in the United States, securing a crucial win for shark conservation. efforts.
OCEANA's report and press release can be found here:
Press Release: https://oceana.org/press-releases/new-oceana- analysis-finds-tuna-fisheries-are-masking-usd-411-million-blue- shark-industry/
OCEANA's report: https://oceana.org/reports/bycatch-no-more- blue-shark-is-a-411-million-fishery-that-deserves-proper- management/
Fisheries & Governance: other projects in review
in 2022 we finished a 3-year project to provide technical support to the National Fisheries and Aquaculture Authority (NaFAA) Liberia on behalf of the EU, to improve the institutional capacity of NaFAA, to deliver on its national and international fisheries sector governance obligations as a regulator, supervisor, and coordinating agency.
Poseidon staff assisted in the development of a Harvest Strategy Policy and Management Standards for fisheries in the Seychelles.
We worked alongside NRC to provided consultant services to produce a Best Practices Guide and hosted a Stakeholder Workshop to address Abandoned, Lost or Discarded Fishing Gear APEC Region.
We completed a cross-cutting evaluation of SFPAs between the EU and third countries on behalf of the European Commission.
On behalf of the German Ministry of economic cooperation and development we are researching how to increase the benefits of SFPAs to African countries, and in particular their small-scale fisheries sectors.
We continued our work to address ocean plastic pollution and reducing the impact of fishing and aquaculture gear on the marine environment.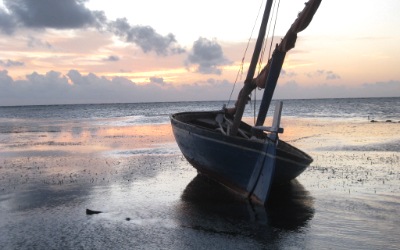 Environmental certification and Fisheries Improvement Plans (FIPs)
Poseidon remains very active with Marine Stewardship Council (MSC) fishery assessments, re-assessments, and surveillance audits, benchmarking and scoring fisheries against the standard. Work in 2022 included:
A brill and rays pre-assessment (Southwest Channel, North Sea and West of Scotland)
Re-assessment of Dutch Razor clam (Dutch coastal zone)
Scottish & Shetland Mussel reassessment (Scotland)
Herring and sprat (Baltic Sea)
Brown Crab MSC Pre-assessment (Northern Ireland)
Our recent and ongoing work on Fisheries Improvement Plans (FIPs), often a pre-cursor to MSC-certification, includes:
Lemon sole & plaice (North Sea)
Crab & lobster (Southwest channel)
Monkfish (Southwest channel)
King scallop (English Channel, North Sea, West of Scotland and Irish Sea)
Nephrops (North Sea, West of Scotland and Irish Sea)
Thornback ray (France / channel)